The Ultimate Guide to Structured Cabling Solutions by Digital Systems Integration, Inc. (DSI) in Viera, FL and Surrounding Areas
Hire Network Voice & Data Cabling installers in Viera Florida
Ensure the success of your business network infrastructure installation with the best application of data cabling and wiring (also referred to as network cabling & structured cabling).
Here are some of the services we provide:
Structured Cabling: evaluation, design, and installation.
Data Cabling: Network Ethernet wiring for LAN.
Fiber Optic Cable: installations, termination, and testing.
Server rack cabling: Patch panel installation & cable management.
Voice Cabling: VOIP & business telephone wiring.
Low voltage wiring: Cabling for security cameras and door access controls.
The Importance of Proper Design and Installation
A well-designed and expertly installed structured cabling system is critical to the success of any business in Viera, FL, and the surrounding Space Coast, Central Florida, and Brevard County. Such a system ensures that your organization's communication infrastructure can accommodate both current and future needs, while providing a stable and efficient platform for data transfer and communication. Key aspects of a successful structured cabling system include:
Scalability: A flexible cabling infrastructure that can grow with your business, allowing for easy upgrades and expansions.
Reliability: High-quality materials and expert installation ensure minimal downtime and disruption to your operations.
Performance: Optimal network speeds and bandwidth to support your organization's data and communication needs.
Always hire a professional structured cabling installer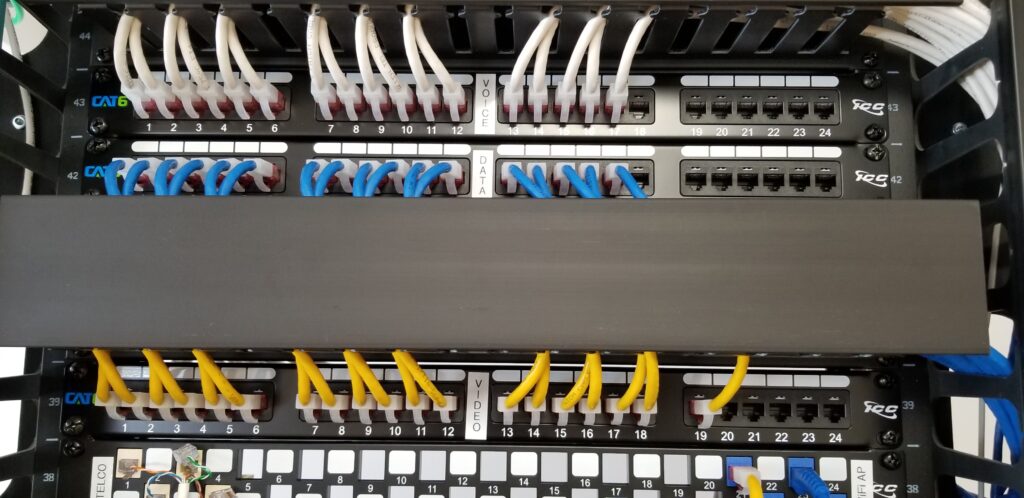 Whether your Viera based business is using CAT 5e, CAT 6, CAT 6a or CAT 7 cable or Fiber data infrastructure,  our licensed low-voltage wire technicians will ensure that your workplace is set up with a fast and reliable cabling infrastructure for your business operations.
From Cat 5, CAT 6, CAT6a to fiber optic cables used for transmitting data as well as voice within as well as outside the organization, you can rest assured the job will be done right the first time.  We use the high-quality riser or plenum rated CAT5, CAT5e, CAT6, RG11, RG6 and OM3 fiber optic cabling from top manufacturers.  All of our installed network drops are properly labeled and validated to IEEE 802 standards. Cabling for CATV distribution and another low voltage cabling for security, multimedia, and audio applications are also tested to ensure interference-free operation.
Types of Structured Cabling Solutions
DSI offers a comprehensive range of structured cabling solutions to meet the diverse needs of businesses in Viera, FL, and the surrounding Space Coast, Central Florida, and Brevard County. Some of the solutions we provide include:
Fiber Optic Cabling
Fiber optic cabling is ideal for organizations with extensive data and communication requirements, providing high-speed data transfer and resistance to interference. This type of cabling can transmit data over long distances with minimal signal loss.
Copper Cabling
Copper cabling is a cost-effective option for businesses with smaller data and communication needs. DSI offers various types of copper cabling, including Category 5e, Category 6, and Category 6a, to cater to different data transfer speeds and bandwidth requirements.
Coaxial Cabling
Coaxial cabling is suitable for video transmission and broadband communication, making it a great choice for businesses that need robust connections for video surveillance, cable television, or high-speed internet access.
We Test and Certify Your Structured Cabling Infrastructure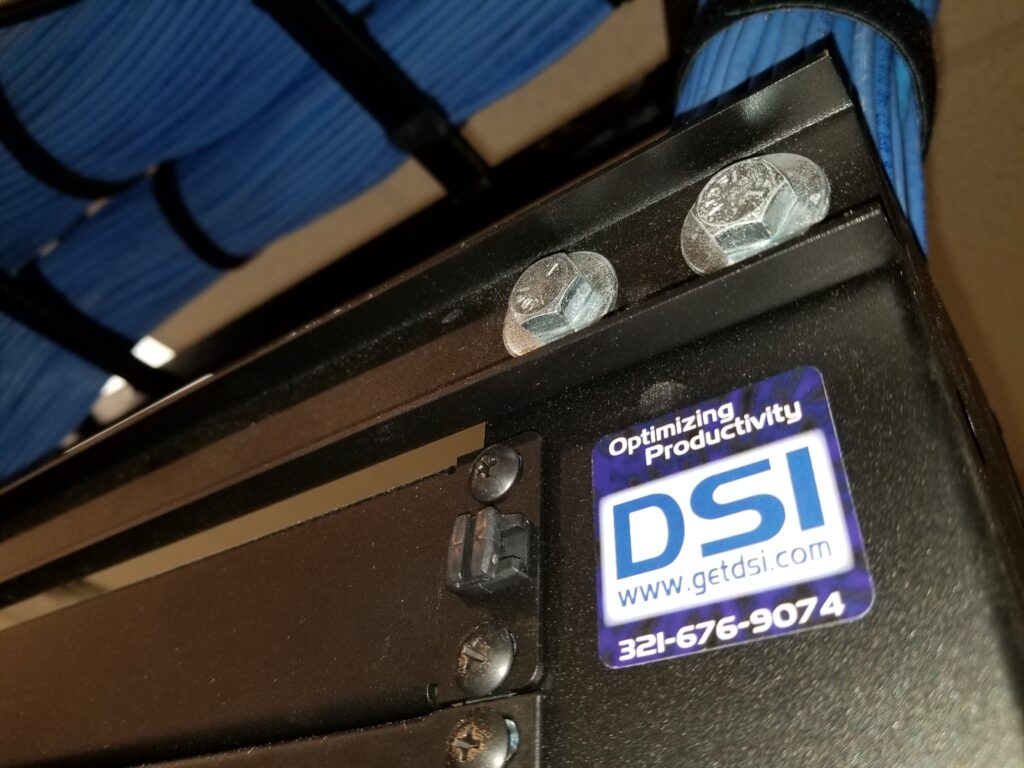 DSI is able to test and verify your computer network cabling with our Fluke testing gear. We make sure each cable is terminated correctly, certified for reliability, speed, and without electromagnetic interference.
We provide a professional appearance as well as accurate labeling to ensure you are stress free about your Viera Florida office's data or fiber network in the midst of any move or upgrade.
Choose from CAT 5e and CAT 6 Data Cabling
CAT 5e and CAT 6 are by far the most common cabling installation. A CAT 5e installation is not as pricey as the CAT 6 or CAT 6a options, and it will get you 1 Gigabit of speed with a distance that reaches 100 meters. Due to the price benefit, it may be an excellent choice for someone who moves often. In general, there will be an approximate cost difference of 20 percent between the CAT5e and CAT 6 installations.
Choosing a CAT6 installation with DSI in Viera will provide you with 10 Gigabytes of speed for a distance of 55 meters. You will incur a premium for the equipment, installation and labor costs that go hand-in-hand with a quicker, newer installation.
Get CAT 6a Data Network Cabling for Your Business
The CAT 6a data cabling installation is becoming more popular in the Space Coast area. Cat 6a will do 10 Gigabits for up to 100 meters, and it also reduces cross-talk. If you're looking for a data cabling installation that will provide great connections well into the future, CAT6a can offer you the best performance at a longer distance.
We are licensed for low voltage wiring
DSI is a licensed contractor and does not use sub-contractors. We are low voltage wire licensed contractors with over 25 years of experience in the design and installation of copper cabling, fiber optic cabling, phone systems, alarm systems, video surveillance systems. Our network cabling and wiring installers are fully certified, highly trained, and committed to your complete satisfaction. We proudly offer emergency repairs, 24/7 support, competitive rates, and free estimates to the people of Viera FL.
The Types of structured cabling installation services we provide in the Space Coast of Florida
Fiber Optics
Cable Installation
Telecommunication Systems
Audio Cables
Network Cables
Fiber Optics Network
AV Cables
Fiber Optic Cabling in Florida
Florida Fiber Optic Cabling
Florida Cabling Contractor
Benefits of Choosing DSI for Structured Cabling Solutions
When you choose DSI for your structured cabling needs in Viera, FL, or any other part of the Space Coast, Central Florida, or Brevard County, you can expect the following benefits:
Expertise: Our team of professionals has extensive experience in designing and installing structured cabling systems for businesses of all sizes and industries.
Quality: We use only high-quality materials and adhere to industry best practices, ensuring that your structured cabling system is reliable and efficient.
Customized Solutions: We work with you to develop a tailored solution that addresses your unique requirements, ensuring that your communication infrastructure supports your business goals.
Ongoing Support: Our commitment to your success doesn't end with the installation. We provide ongoing support and maintenance to ensure your structured cabling system continues to perform optimally.
Proudly Serving the Space Coast, Central Florida, and Brevard County
DSI is honored to serve businesses throughout the Space Coast, Central Florida, and Brevard County, including Viera, FL. Our extensive knowledge of the local market and deep understanding of the specific needs of businesses in this region make us the go-to choice for structured cabling solutions. Our commitment to providing exceptional service and support has made us a trusted partner for companies in these areas.
Contact DSI for Structured Cabling Solutions in Viera, FL and Surrounding Areas
Whether your business is located in Viera, FL, or any other part of the Space Coast, Central Florida, or Brevard County, DSI is your trusted partner for structured cabling solutions. Contact us today at solutions@getdsi.com or visit our Structured Cabling Solutions page at https://getdsi.com/structured-cabling-solutions/ to learn more about how we can help your business achieve seamless communication and data transfer through expertly designed and installed structured cabling systems.
Summary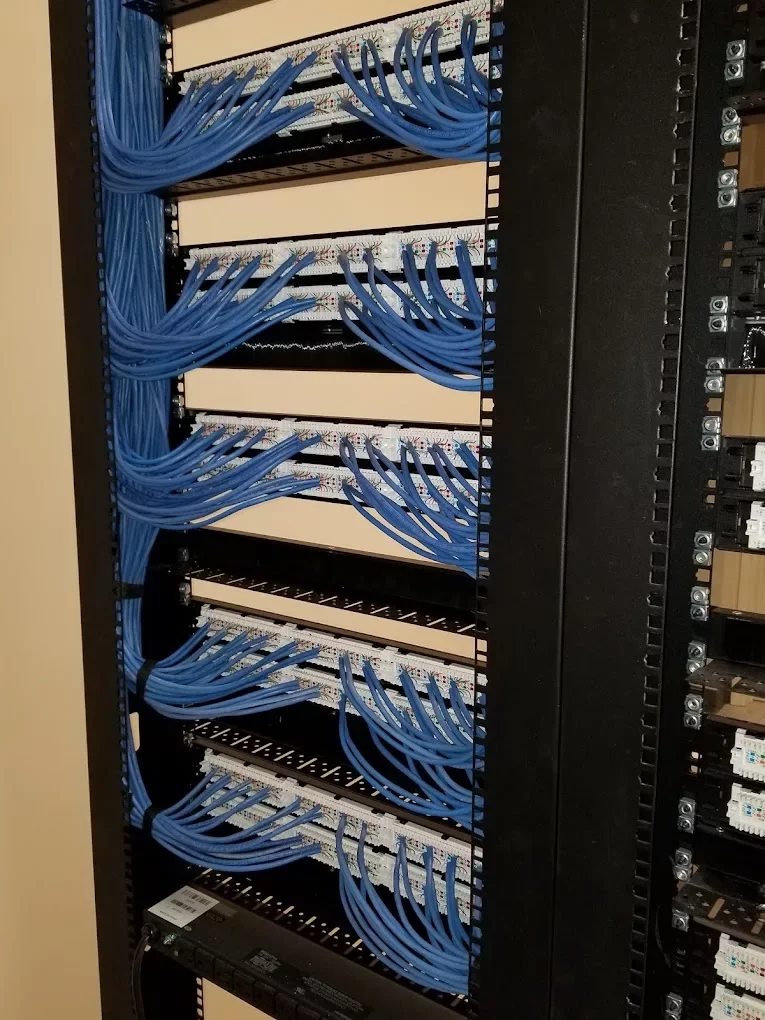 Service Type
Low Voltage Voice and Data Cabling Contractor
Provider Name
DSI | Digital Systems Integration, Inc.
,
739 North Drive, Suite A
,
Melbourne
,
Florida, USA
-
32934
,
Telephone No.(321) 676-9074
Area
Viera Florida, Space Coast Florida, Brevard Country
Description
DSI is a licensed low voltage wiring contractor and does not use sub-contractors in Melbourne FL. We use the high-quality riser or plenum rated CAT5, CAT5e, CAT6, RG11, RG6 and OM3 fiber optic cabling for your voice and data cabling needs.