Customers keep wanting better ways to work remotely and VPN just doesn't cut it anymore. So at DSI we have been evaluating SideChannel Enclave, a revolutionary tool that combines access control, micro segmentation, encryption, and secure networking, provides a remarkable alternative to traditional VPNs. This article explores the key reasons why SideChannel Enclave stands out in the realm of network security and remote connectivity.
More Secure
SideChannel Enclave offers a stronger security model compared to traditional VPNs. The use of Nebula's FIPS encryption ensures that data transmitted over the network is protected using NIST-approved algorithms. This end-to-end encryption protects data in transit, a key requirement of security standards like NIST 800-171.
In addition, Enclave's alerting features for unauthorized lateral movements significantly enhance its security capabilities. The system can detect and notify administrators of any unauthorized attempt to move laterally within the network, thereby preventing potential data breaches.
Access Control and RBAC
Access Control and Role-Based Access Control (RBAC) are integral parts of SideChannel Enclave's functionality. It allows organizations to control access based on individual identities and their assigned roles, aligning with the principle of least privilege. This level of granular control is often lacking in traditional VPN solutions.
Real-time Visibility and Monitoring
SideChannel Enclave offers real-time visibility of network flows. This enables network and security teams to visualize application dependencies without the need for any knowledge of the underlying architecture.
Enclave also stores flow records with workload context, making it a valuable tool for monitoring and reporting. This feature is particularly useful for generating compliance reports, a common requirement for many organizations.
Network Segmentation and Microsegmentation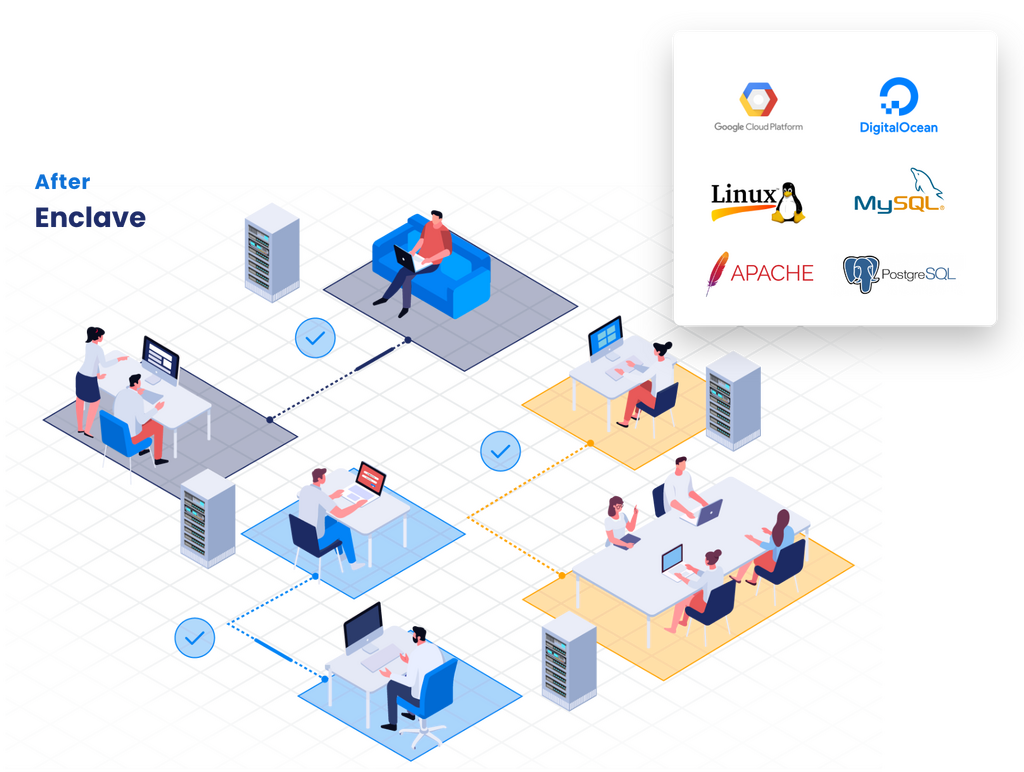 One of the most notable features of SideChannel Enclave is its ability to segment the enterprise network. This network segmentation and microsegmentation feature isolates sensitive systems containing Controlled Unclassified Information (CUI) from less secure parts of the network. In contrast, traditional VPNs often provide a "all or nothing" access, which can lead to increased risk.
Scalability
As your environment scales, SideChannel Enclave will adapt automatically – on premises or in the public cloud. This scalability ensures continuous compliance with security standards, regardless of changes in the size or complexity of your network.
Killing VPN Inefficiencies
Traditional VPNs can introduce a number of challenges including network slowdowns and productivity loss. SideChannel Enclave eliminates these issues, providing a faster, more efficient connection that doesn't compromise security.
Visual Representation of Connections and Nodes
SideChannel Enclave provides a visual representation of connections and nodes, enhancing network transparency and simplifying management. This is a significant improvement over traditional VPNs, which often lack intuitive, visual interfaces.
Conclusion
In the era of remote work and sophisticated cyber threats, SideChannel Enclave offers a superior, comprehensive solution to secure networking. Its robust security features, access control, real-time visibility, network segmentation, scalability, and user-friendly interface make it a standout choice for businesses aiming to enhance

Summary
Article Name
Why SideChannel Enclave is a Superior Alternative to Traditional VPNs
Description
"Discover why SideChannel Enclave is the superior alternative to traditional VPNs for secure, remote networking. Offering stronger security with Nebula's FIPS encryption and alerting features, SideChannel Enclave protects your data and detects unauthorized lateral movements. Unlike VPNs, it provides granular access control and Role-Based Access Control (RBAC) ensuring only authorized individuals access your network. With real-time visibility of network flows and detailed reporting, you can easily monitor network activity and meet compliance requirements. Benefit from network segmentation and microsegmentation to isolate sensitive systems and data. As your business grows, SideChannel Enclave scales seamlessly, whether on-premises or in the cloud. Say goodbye to the inefficiencies of VPNs and embrace the speed, efficiency, and visual interface of SideChannel Enclave for a simplified, secure networking experience."
Author
Publisher Name
DSI | Digital Systems Integration, Inc.
Publisher Logo