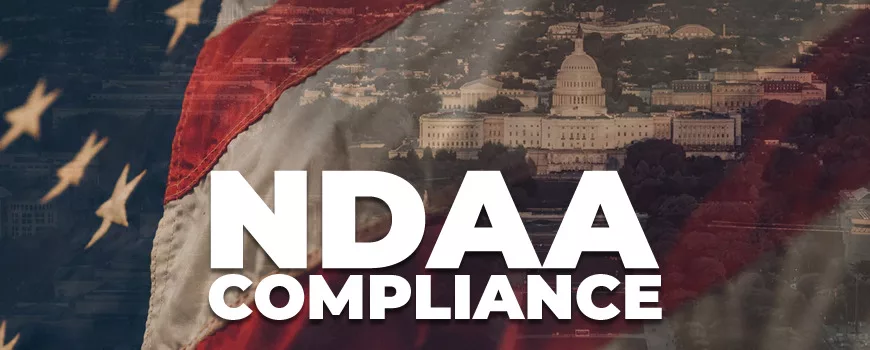 Introduction
NDAA, CMMC, and NIST 800-171 are essential components in the United States' efforts to protect sensitive information and improve cybersecurity. Security cameras are key tools for maintaining the safety of sensitive environments. This article explores the importance of NDAA compliance for security cameras and its relation to CMMC and NIST 800-171 requirements.
Overview of NDAA, CMMC, and NIST 800-171
1. National Defense Authorization Act (NDAA)
The NDAA is an annual US federal law that sets the budget and expenditures for the Department of Defense (DoD). Recently, the NDAA has included provisions related to supply chain security, particularly the procurement of video surveillance equipment. The 2019 NDAA's Section 889 bans specific Chinese-manufactured security cameras and components in federal facilities to reduce potential national security risks.
2. Cybersecurity Maturity Model Certification (CMMC)
The CMMC is a certification process created by the DoD to better protect sensitive information held by defense contractors. The CMMC framework requires companies to implement certain cybersecurity practices and processes across five maturity levels. Defense contractors must achieve the appropriate CMMC level to be eligible for DoD contracts.
3. NIST Special Publication 800-171
NIST 800-171 includes requirements for protecting controlled unclassified information (CUI) in non-federal systems and organizations. The guidelines ensure that sensitive information is protected throughout the supply chain. Compliance with NIST 800-171 is mandatory for organizations that handle, process, or store CUI.
Why NDAA Matters for Security Cameras in the Context of CMMC and NIST 800-171
1. Supply Chain Security
NDAA compliance for security camera manufacturers and suppliers shows their commitment to protecting supply chain integrity. This compliance guarantees that video surveillance equipment used in federal facilities is free from potential cybersecurity vulnerabilities, helping defense contractors meet CMMC and NIST 800-171 security requirements.
2. Improved Cybersecurity Posture
NDAA-compliant security cameras undergo rigorous testing and validation to minimize cyber threat risks. By using NDAA-compliant equipment, organizations not only follow federal regulations but also proactively enhance their cybersecurity posture. This strengthens their ability to meet CMMC and NIST 800-171 requirements, which demand robust cybersecurity practices.
3. Building Trust and Confidence
Incorporating NDAA-compliant security cameras into their systems is essential for defense contractors and other organizations handling CUI. Demonstrating compliance with NDAA, CMMC, and NIST 800-171 builds trust and confidence among stakeholders like clients, partners, and federal agencies. This trust is crucial for securing DoD contracts and maintaining long-term relationships with government entities.
Conclusion
The NDAA's focus on security cameras highlights the importance of these devices in protecting sensitive information and maintaining national security. By adhering to NDAA regulations, organizations strengthen their cybersecurity posture and facilitate compliance with CMMC and NIST 800-171 standards. As a result, they can ensure supply chain integrity, enhance stakeholder trust, and remain competitive in the defense contracting market.